Hand Embroidered Bedding
The embroidered bed is one of our main products, which is representative of our exquisite craftsmanship.
Bedding embroidery has not only accepted the process with Chinese characteristics, but also combines the characteristics of our own nation, which formed its own unique charm, whether it is pattern or color, with rich ethnic characteristics.
Now on the market more and more bedding, we make embroidered bedding, our products focus on enabling consumers to enjoy a more comfortable life, we have a high standard of living and quality of sleep, which are reflected in the Products, so that consumers recognize from the product our business philosophy and attitude, we speak with high quality products.
We insist on the concept of quality products, "to provide consumers with the most comfortable and healthy and high quality bedding" for the pursuit of goals, presented elaborate, elegant and comfortable household items, so that people pay attention to quality of life, easy to enjoy Unparalleled quality sleep, so that harmony and natural life have long-lasting!
In the "quality first, promote brand names, science and technology industry, create a better future" business principles and concepts, we have been dedicated to the production and sale of high-quality bedding, jewelry and other extraordinary quality household items.
Our unremitting efforts have long earned the reputation of "Embroidered Bedding Products" all over the country and maintained the top rank in the industry in terms of production, sales and profitability. They are well-known in Hong Kong and Southeast Asia and well received by consumers in Europe and the United States.
Embroidered bed style:
A: pastoral style
Natural pastoral style advocate "return to nature", in style and style strive to show the leisurely, comfortable, natural pastoral life.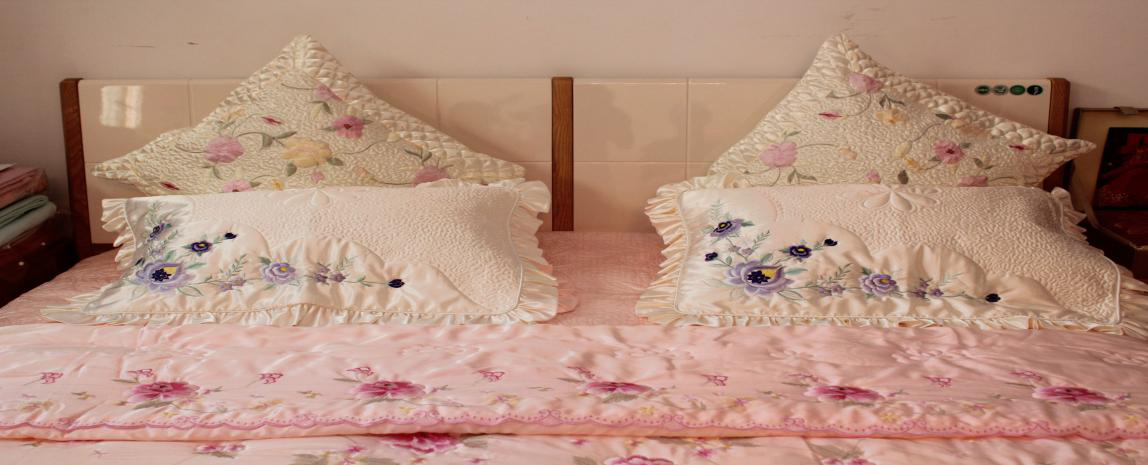 B: elegant style
Modern simple fashion lifestyle aims to gradually rise a neutral trend of elegance.
The so-called plain and elegant style, refers to the color of bedding is more elegant, there is no Chinese red, there is no traditional gorgeous, nor the magnificent European. Elegant style and more use of light blue, white, gray and other elegant colors, in the color modeling, there is no traditional floral patterns, replaced by simple lines, classic stripes, lattice shape, giving a stylish, simple, unique sentiment , Outlines the simple fashion style to enjoy the breath of modern life.